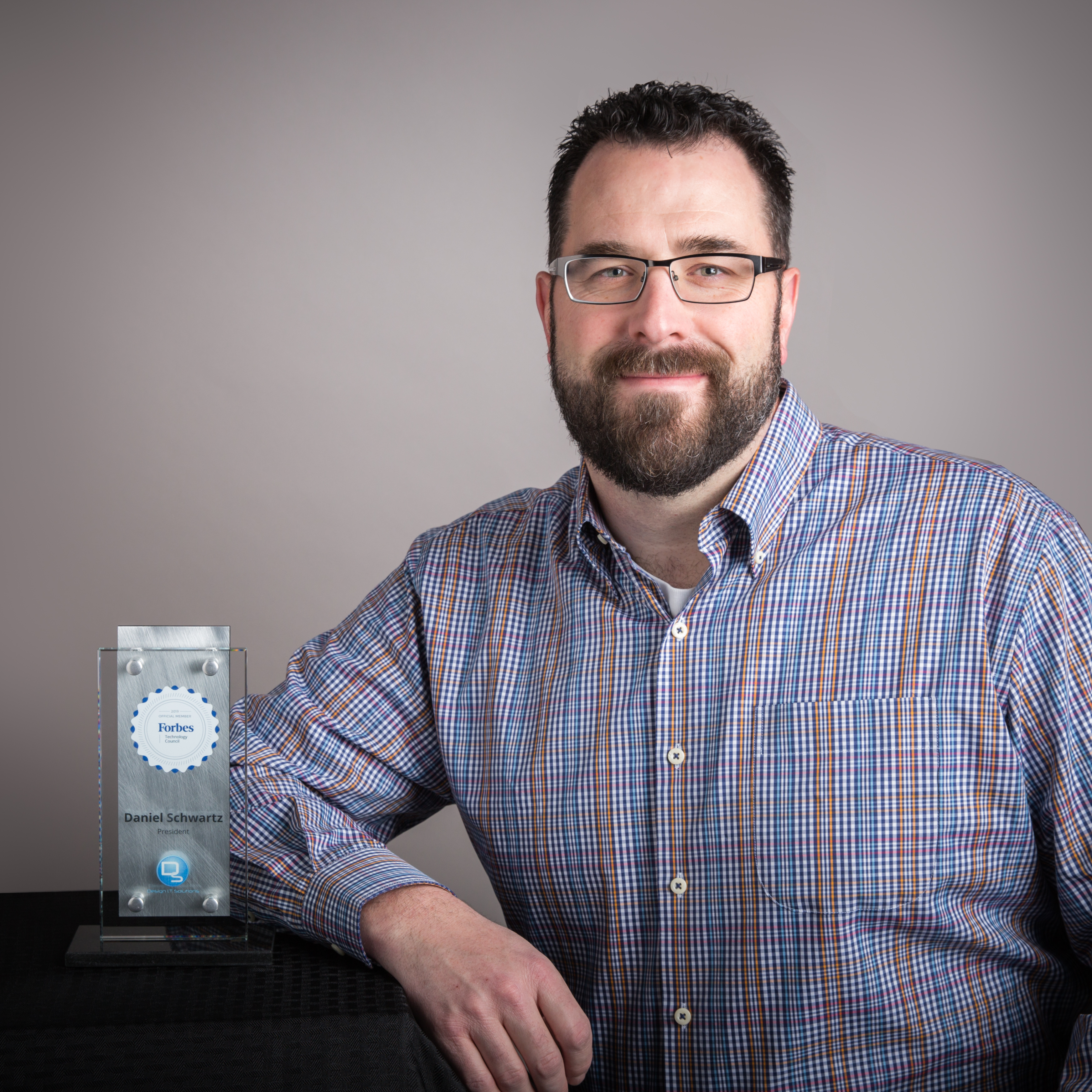 Daniel Schwartz, President and CEO of Design IT Solutions, one of Spokane's leading IT service providers, has been invited to join Forbes Technology Council, a by invitation only community of industry leaders.
Spokane, WA - Daniel Schwartz was reviewed and carefully selected by a committee based on his "depth and diversity of experience" to join the Forbes Technology Council.  The Forbes Technology Council is an invitation-only organization for senior-level technology executives.  As a Forbes council member, Daniel is afforded the opportunity to be part of a larger group of technology leaders as well as having a platform to share his experience with his clients and others.
"When I started Design IT Solutions over 15 years ago, it was my mission to provide companies with the best technology solutions available and unparalleled customer service for a reasonable price.  I learned quickly, that to meet the needs of each client/industry in ways that were both efficient and economical,  I needed to stay ahead of the ever-changing technology curve.  Over the years, through experience, research and continued education, I have used the knowledge I gained to provide comprehensive technology solutions for each of our customers.  As a result, being invited to be a member of the Forbes Technology Council was honor, but also, a tangible measurement of attaining my goals."  - Daniel Schwartz, President/CEO, Design IT Solutions
What is Forbes Technology Council?
Most people are familiar with Forbes magazine.  Forbes has been around for over 100 years and has built a prestigious brand known worldwide.  They recently developed special invitation-only councils for 9 different industries including, technology.  The goals of Forbes Tech Council are twofold.  First, it brings together a community of industry leaders to exchange ideas and support each other.  Second, it gives those leaders a platform to share knowledge and helpful information with other industry leaders that will help them flourish.  
What does this mean for Daniel's clients?
It means you can move forward with complete confidence that you have hired a company with the highest levels of expertise, commitment, and service available.  It also means that Daniel and his team of seasoned professionals at Design IT Solutions will be collaborating with the "best of the best" and continuing to maintain the highest levels of IT knowledge.  As an invited member of the Forbes Tech Council, Daniel has access to a variety of exclusive services and opportunities that his clients will also benefit from.  Know that you are partnering with IT professionals who are committed to providing you with the highest quality of service.
About Forbes Councils
Forbes in partnership with the community of developers who founded the Young Entrepreneur Council (YEC) created a collective of invitation-only communities.  The mission of Forbes Councils is to curate groups of successful professionals from every industry to help them make an even greater impact on the business world.  In Forbes Councils, member's who are hand-selected receive exclusive member benefits, discounts on highly valued business services, best-in-class concierge teams, personalized connections, peer-to-peer learning, marketing support, and other benefits.
For more information about Forbes Tech Council, visit https://forbestechcouncil.com/.  To learn more about Forbes Councils visit https://forbescouncils.com/.
About Design IT Solutions
For 15 years, Design IT Solutions has been creating and implementing IT services and solutions for companies of various sizes and industries. We surpass other managed IT service providers by developing tailored packages that meet the specific needs of each individual client while other MSP's sell their customers a predetermined level of managed services (i.e. bronze, silver or gold levels,) which best suits the IT Company, not the customer.  We are committed to providing our clients with high-quality service that supports exactly what they need – nothing more, nothing less.  As a result, Design IT Solutions' clients benefit greatly by partnering with us.  Don't take our word for it, check out "our clients" page and see what they have to say about their experience working with Design IT Solutions.  As a full service IT provider, Design IT Solutions is the "one-stop shop" for all your companies technology needs.